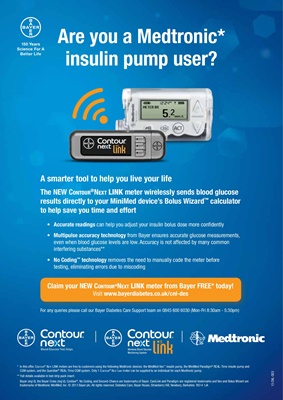 Are you a Medtronic*
insulin pump user?
A smarter tool to help you live your life
The NEW CONTOUR
®NEXT LINK meter wirelessly sends blood glucose
results directly to your MiniMed device's Bolus Wizard™ calculator
to help save you time and effort
• Accurate readings can help you adjust your insulin bolus dose more conidently
• Multipulse accuracy technology from Bayer ensures accurate glucose measurements,
even when blood glucose levels are low. Accuracy is not affected by many common
interfering substances**
• No Coding™ technology removes the need to manually code the meter before
testing, eliminating errors due to miscoding
Claim your NEW CONTOUR®NEXT LINK meter from Bayer FREE* today!
Visit www.bayerdiabetes.co.uk/cnl-des
* In this offer, CONTOUR
® NEXT LINK meters are free to customers using the following Medtronic devices: the MiniMed Veo™ insulin pump, the MiniMed Paradigm® REAL-Time insulin pump and
CGM system, and the Guardian® REAL-Time CGM system. Only 1 CONTOUR
® NEXT LINK meter can be supplied to an individual for each Medtronic pump.
** Full details available in test strip pack insert.
Bayer (reg'd), the Bayer Cross (reg'd), Contour®, No Coding, and Second-Chance are trademarks of Bayer. CareLink and Paradigm are registered trademarks and Veo and Bolus Wizard are
trademarks of Medtronic MiniMed, Inc. © 2013 Bayer plc. All rights reserved. Diabetes Care, Bayer House, Strawberry Hill, Newbury, Berkshire. RG14 1JA 13 CNL-DES
For any queries please call our Bayer Diabetes Care Support team on 0845 600 6030 (Mon-Fri 8:30am - 5:30pm)