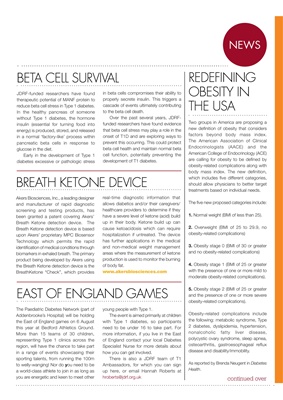 NEWS
continued over
JDRF-funded researchers have found
therapeutic potential of MANF protein to
reduce beta cell stress in Type 1 diabetes.
In the healthy pancreas of someone
without Type 1 diabetes, the hormone
insulin (essential for turning food into
energy) is produced, stored, and released
in a normal 'factory-like' process within
pancreatic beta cells in response to
glucose in the diet.
Early in the development of Type 1
diabetes excessive or pathologic stress
BETA CELL SURVIVAL
in beta cells compromises their ability to
properly secrete insulin. This triggers a
cascade of events ultimately contributing
to the beta cell death.
Over the past several years, JDRFfunded researchers
have found evidence
that beta cell stress may play a role in the
onset of T1D and are exploring ways to
prevent this occurring. This could protect
beta cell health and maintain normal beta
cell function.
BREATH KETONE DEVICE
Akers Biosciences, Inc., a leading
designer and manufacturer of rapid
diagnostic screening and testing products
has been granted a patent covering
Akers' Breath Ketone detection device.
The Breath Ketone detection device is
based upon Akers' proprietary MPC
Biosensor Technology which permits the
rapid identification of medical conditions
through biomarkers in exhaled breath.
The primary product being developed by
Akers using the Breath Ketone detection
device is the BreathKetone "Check",
which provides real-time diagnostic
information that allows diabetics and/
or their caregivers/healthcare providers
to determine if they have a severe level
of ketone (acid) build up in their body.
Ketone build up can cause ketoacidosis
which can require hospitalization if
untreated. The device has further
applications in the medical and nonmedical weight management areas
where
the measurement of ketone production is
used to monitor the burning of body fat.
As reported by Brenda Neugent in
Diabetes Health, two groups are
proposing a new definition of obesity that
considers factors beyond body mass
index.
The American Association of Clinical
Endocrinologists (AACE) and the
American College of Endocrinology (ACE)
are calling for obesity to be defined by
obesity-related complications along with
body mass index.
The new definition, which includes five
different categories, will allow physicians
to better target treatments based on
individual needs, experts have said.
The five new proposed categories include:
1. Normal weight (BMI of less than 25).
2. Overweight (BMI of 25 to 29.9, no
obesity-related complications)
3. Obesity stage 0 (BMI of 30 or greater
and no obesity-related complications)
4. Obesity stage 1 (BMI of 25 or greater
with the presence of one or more mild to
moderate obesity-related complications).
5. Obesity stage 2 (BMI of 25 or greater
and the presence of one or more severe
obesity-related complications).
Obesity-related complications include
the following: metabolic syndrome, Type
2 diabetes, dyslipidemia, hypertension,
nonalcoholic fatty liver disease,
polycystic ovary syndrome, sleep apnea,
osteoarthritis, gastroesophageal reflux
disease and disability/immobility.
REDEFINING
OBESITY IN
THE USA
EAST OF ENGLAND GAMES
The Paediatric Diabetes Network (part of
Addenbrooke's Hospital) will be holding
the East of England games on 6 August
this year at Bedford Athletics Ground.
More than 15 teams of 30 children,
representing Type 1 clinics across the
region, will have the chance to take part
in a range of events showcasing their
sporting talents - from running the 100m
to welly-wanging!
You don't need to be a world-class
athlete to join in as long as you are
energetic and keen to meet other young
people with Type 1. The event is aimed
primarily at children with Type 1 diabetes.
For more information, if you live in the East
of England contact your local Diabetes
Specialist Nurse for more details about
how you can get involved. You need to be
under 16 to take part.
There is also a JDRF hroberts@jdrf.org.ukassadors, for which you can sign
up here, or email Hannah Roberts at
hroberts@jdrf.org.uk