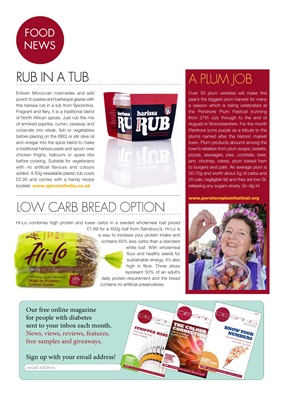 Enliven Moroccan marinades and add
punch to pastes and barbeque glazes with
this harissa rub in a tub from Spicentice.
Fragrant and fiery, it is a traditional blend
of North African spices. Just rub the mix
of smoked paprika, cumin, caraway and
coriander into steak, fish or vegetables
before placing on the BBQ or stir olive oil
and vinegar into the spice blend to make
a traditional harissa paste and spoon over
chicken thighs, halloumi or spare ribs
before cooking. Suitable for vegetarians
with no artificial flavours and colours
added. A 50g resealable plastic tub costs
£2.95 and comes with a handy recipe
booklet. www.spicesofindia.co.uk
RUB IN A TUB
LOW CARB BREAD OPTION
Hi-Lo combines high protein and lower carbs in a seeded wholemeal loaf priced
£1.69 for a 400g loaf from Sainsbury's. Hi-Lo is
a way to increase your protein intake and
contains 65% less carbs than a standard
white loaf. With wholemeal
flour and healthy seeds for
sustainable energy, it's also
high in fibre. Three slices
represent 50% of an adult's
daily protein requirement and the bread
contains no artificial preservatives.
Over 30 plum varieties will make up the
biggest plum harvest for many years and
is better celebrated at the Pershore Plum
Festival (running from 27th July through
to the end of August) in Worcestershire.
For the month Pershore turns purple as
a tribute to the plums named after the
historic market town. Plum products
abound among the town's retailers from
plum soaps, sweets, pizzas, sausages,
pies, cocktails, beer, jam, chutney, cakes,
Wellington boots, plum baked ham,
burgers and pate. An average plum is
50-70g and worth about 5g of carbs and
20 cals, negligible fat and they are low GI,
releasing any sugars slowly. So dig in!
A PLUM JOB
Our free online magazine
for people with diabetes
sent to your inbox each month.
News, views, reviews, features,
free samples and giveaways.
Sign up with your email address!
email address
FOOD
NEWS