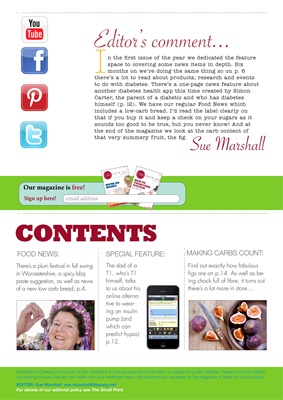 CONTENTS
Published by Desang Ltd the aim of this newsletter is to bring news and information to people living with diabetes. Please check all matters
concerning how you handle your health with your healthcare team. We welcome any feedback on the magazine or ideas for future articles.
EDITOR: Sue Marshall sue.marshall@desang.netshall" target="_blank" title="Visit sue.marshall">sue.marshall@desang.net
For details of our editorial policy see The Small Print.
The dad of a
Type 1, who's
a Type 1
himself, talks
to us about his
online alternative to wearing
an insulin
pump which
can predict
hypos p.12.
Sue Marshall
FOOD NEWS:
There's a plum festival in full swing
in Worcestershire, a spicy bbq
paste suggestion, as well as news
of a new low carb bread, p.4. In the first issue of the year we dedicated the feature
space to covering some news items in depth. Six
months on we're doing the same thing so on p. 6
there's a lot to read about products, research and events.
There's a one-page news feature about another diabetes
health app created by Simon Carter, the parent of a
diabetic and who has diabetes himself (p. l2). We have
our regular Food News which includes a low-carb bread.
I'd read the label clearly on that if you buy it and keep a
check on your sugars as it sounds too good to be true, but
you never know! And at the end of the magazine we look
at the carb content of figs.
Editor's comment...
ISSUE 30
MAGAZINE
DESANG
PLUS • New Products • Groovy giveaways • News (for T1 and T2)
WE'RE NO
ANGELS
But business as usual is best for
diabetics at Christmas
MAKING
CARBS COUNT:
CHESTNUTS ROASTING
ON OPEN FIRES
Our magazine is free!
Sign up here! email address
SPECIAL FEATURE:
Find out exactly how fabulous
figs are on p.14. As well as being chock full of fibre, it turns
out
there's a lot more in store....
MAKING CARBS COUNT: