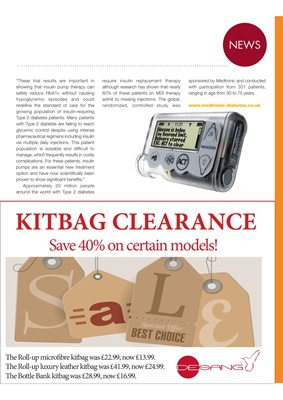 NEWS
KITBAG CLEARANCE
he Roll-up microibre kitbag was £22.99, now £13.99.
he Roll-up luxury leather kitbag was £41.99, now £24.99.
he Bottle Bank kitbag was £28.99, now £16.99.
Save 40% on certain models!
"These trial results are important in
showing that insulin pump therapy can
safely reduce HbA1c without causing
hypoglycemic episodes and could
redefine the standard of care for the
growing population of insulin-requiring
Type 2 diabetes patients. Many patients
with Type 2 diabetes are failing to reach
glycemic control despite using intense
pharmaceutical regimens including insulin
via multiple daily injections. This patient
population is sizeable and difficult to
manage, which frequently results in costly
complications. For these patients, insulin
pumps are an essential new treatment
option and have now scientifically been
proven to show significant benefits."
Approximately 20 million people
around the world with Type 2 diabetes
require insulin replacement therapy
although research has shown that nearly
60% of these patients on multiple daily
injection (MDI) therapy admit to missing
injections. The global, randomized,
controlled study was sponsored by Medtronic and conducted with
participation from 331 patients, ranging
in age from 30 to 75 years.