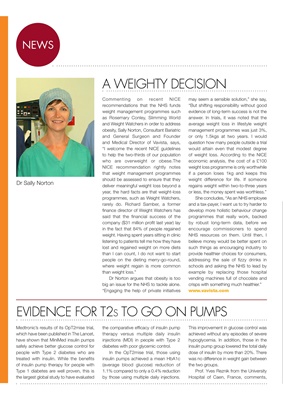 NEWS
Commenting on recent NICE
recommendations that the NHS funds
weight management programmes such
as Rosemary Conley, Slimming World
and Weight Watchers in order to address
obesity, Sally Norton, Consultant Bariatric
and General Surgeon and Founder
and Medical Director of Vavista, says,
"I welcome the recent NICE guidelines
to help the two-thirds of our population
who are overweight or obese. The
NICE recommendation rightly notes
that weight management programmes
should be assessed to ensure that they
deliver meaningful weight loss beyond a
year, the hard facts are that weight-loss
programmes, such as Weight Watchers,
rarely do. Richard Samber, a former
finance director of Weight Watchers has
said that the financial success of the
company ($31 million profit last year) lay
in the fact that 84% of people regained
weight. Having spent years sitting in clinic
listening to patients tell me how they have
lost and regained weight on more diets
than I can count, I do not want to start
people on the dieting merry-go-round,
where weight regain is more common
than weight loss."
Dr Norton argues that obesity is too
big an issue for the NHS to tackle alone.
"Engaging the help of private initiatives
A WEIGHTY DECISION
may seem a sensible solution," she say,
"But shifting responsibility without good
evidence of long-term success is not the
answer. In trials, it was noted that the
average weight loss in lifestyle weight
management programmes was just 3%,
or only 1.5kgs at two years. I would
question how many people outside a trial
would attain even that modest degree
of weight loss. According to the NICE
economic analysis, the cost of a £100
weight loss programme is only worthwhile
if a person loses 1kg and keeps this
weight difference for life. If someone
regains weight within two-to-three years
or less, the money spent was worthless."
She concludes, "As an NHS employee
and a tax-payer, I want us to try harder to
develop more holistic behaviour change
programmes that really work, backed
by robust long-term data, before we
encourage commissioners to spend
NHS resources on them. Until then, I
believe money would be better spent on
such things as encouraging industry to
provide healthier choices for consumers,
addressing the sale of fizzy drinks in
schools and asking the NHS to lead by
example by replacing those hospital
vending machines full of chocolate and
crisps with something much healthier."
EVIDENCE FOR T2S TO GO ON PUMPS
Medtronic's results of its OpT2mise trial,
which have been published in The Lancet,
have shown that MiniMed insulin pumps
safely achieve better glucose control for
people with Type 2 diabetes who are
treated with insulin. While the benefits
of insulin pump therapy for people with
Type 1 diabetes are well proven, this is
the largest global study to evaluate the
comparative efficacy of insulin pump
therapy versus multiple daily insulin
injections in people with Type 2 diabetes
with poor glycemic control.
In the OpT2mise trial, those using
insulin pumps achieved a mean HbA1c
(average blood glucose) reduction of
1.1% compared to only a 0.4% reduction
by those using multiple daily injections.
This improvement in glucose control was
achieved without any episodes of severe
hypoglycemia. In addition, those in the
insulin pump group lowered the total daily
dose of insulin by more than 20%. There
was no difference in weight gain between
the two groups.
Prof. Yves Reznik from the University
Hospital of Caen, France, comments,