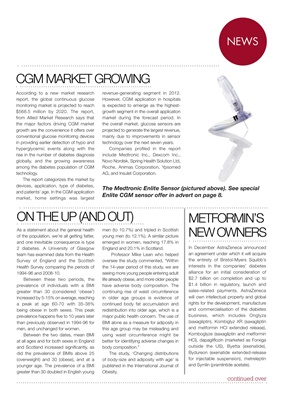 continued over
NEWS
CGM MARKET GROWING
According to a new market research
report, the global continuous glucose
monitoring market is projected to reach
$568.5 million by 2020. The report,
from Allied Market Research says that
the major factors driving CGM market
growth are the convenience it offers over
conventional glucose monitoring devices
in providing earlier detection of hypo and
hyperglycemic events along with the
rise in the number of diabetes diagnosis
globally, and the growing awareness
among the diabetes population of CGM
technology.
The report categorizes the market by
devices, application, type of diabetes,
and patients' age. In the CGM application
market, home settings was largest
revenue-generating segment in 2012.
However, CGM application in hospitals
is expected to emerge as the highestgrowth
segment in the overall application
market during the forecast period. In
the overall market, glucose sensors are
projected to generate the largest revenue,
mainly due to improvements in sensor
technology over the next seven years.
Companies profiled in the report
include Medtronic Inc., Dexcom Inc.,
Novo Nordisk, Spring Health Solution Ltd,
Roche, Animas Corporation, Ypsomed
AG, and Insulet Corporation.
The Medtronic Enlite Sensor (pictured). See special offer in
advert on page 8.
ON THE UP (AND OUT)
As a statement about the general health
of the population, we're all getting fatter,
and one inevitable consequence is type
2 diabetes. A University of Glasgow
team has examined data from the Health
Survey of England and the Scottish
Health Survey comparing the periods of
1994-96 and 2008-10.
Between these two periods, the
prevalence of individuals with a BMI
greater than 30 (considered 'obese')
increased by 5-15% on average, reaching
a peak at age 60-70 with 35-38%
being obese in both sexes. This peak
prevalence happens five to 10 years later
than previously observed in 1994-96 for
men, and unchanged for women.
Between the two dates, mean BMI
at all ages and for both sexes in England
and Scotland increased significantly, as
did the prevalence of BMIs above 25
(overweight) and 30 (obese), and at a
younger age. The prevalence of a BMI
greater than 30 doubled in English young
men (to 10.7%) and tripled in Scottish
young men (to 12.1%). A similar picture
emerged in women, reaching 17.8% in
England and 20.1% in Scotland.
Professor Mike Lean who helped
oversee the study commented, "Within
the 14-year period of this study, we are
seeing more young people entering adult
life already obese, and more older people
have adverse body composition. The
continuing rise of waist circumference
in older age groups is evidence of
continued body fat accumulation and
redistribution into older age, which is a
major public health concern. The use of
BMI alone as a measure for adiposity in
this age group may be misleading and
using waist circumference might be
better for identifying adverse changes in
body composition."
The study, 'Changing distributions
of body-size and adiposity with age' is
published in the International Journal of
Obesity.
METFORMIN'S
NEW OWNERS
In December AstraZeneca announced
an agreement under which it will acquire
the entirety of Bristol-Myers Squibb's
interests in the companies' diabetes
alliance for an initial consideration of $2.7
billion on completion and up to $1.4
billion in regulatory, launch and salesrelated
payments.
AstraZeneca will own intellectual
property and global rights for the
development, manufacture and
commercialisation of the diabetes
business, which includes Onglyza
(saxagliptin), Kombiglyz XR (saxagliptin
and metformin HCl extended release),
Komboglyze (saxagliptin and metformin
HCl), dapagliflozin (marketed as Forxiga
outside the US), Byetta (exenatide),
Bydureon (exenatide extended-release
for injectable suspension), metreleptin
and Symlin (pramlintide acetate).