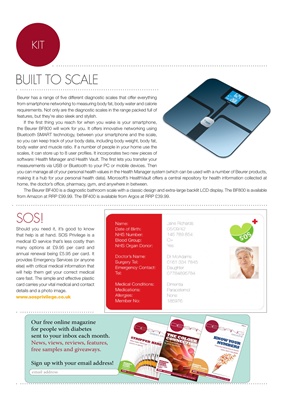 KIT
Should you need it, it's good to know
that help is at hand. SOS Privilege is a
medical ID service that's less costly than
many options at £9.95 per card and
annual renewal being £5.95 per card. It
provides Emergency Services (or anyone
else) with critical medical information that
will help them get your correct medical
care fast. The simple and effective plastic
card carries your vital medical and contact
details and a photo image.
Beurer has a range of five different diagnostic scales that offer everything
from smartphone networking to measuring body fat, body water and calorie
requirements. Not only are the diagnostic scales in the range packed full of
features, but they're also sleek and stylish.
If the first thing you reach for when you wake is your smartphone,
the Beurer BF800 will work for you. It offers innovative networking using
Bluetooth SMART technology, between your smartphone and the scale,
so you can keep track of your body data, including body weight, body fat,
body water and muscle ratio. If a number of people in your home use the
scales, it can store up to 8 user profiles. It incorporates two new pieces of
software: Health Manager and Health Vault. The first lets you transfer your
measurements via USB or Bluetooth to your PC or mobile devices. Then
you can manage all of your personal health values in the Health Manager system (which can be used with a number of Beurer products,
making it a hub for your personal health data). Microsoft's HealthVault offers a central repository for health information collected at
home, the doctor's office, pharmacy, gym, and anywhere in between.
The Beurer BF400 is a diagnostic bathroom scale with a classic design and extra-large backlit LCD display. The BF800 is available
from Amazon at RRP £99.99. The BF400 is available from Argos at RRP £39.99.
BUILT TO SCALE
SOS!
Our free online magazine
for people with diabetes
sent to your inbox each month.
News, views, reviews, features,
free samples and giveaways.
Sign up with your email address!
email address