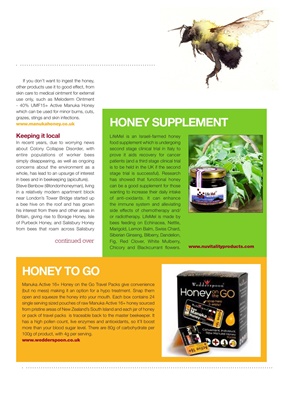 HONEY TO GO
Manuka Active 16+ Honey on the Go Travel Packs give convenience
(but no mess) making it an option for a hypo treatment. Snap them
open and squeeze the honey into your mouth. Each box contains 24
single serving sized pouches of raw Manuka Active 16+ honey sourced
from pristine areas of New Zealand's South Island and each jar of honey
or pack of travel packs is traceable back to the master beekeeper. It
has a high pollen count, live enzymes and antioxidants, so it'll boost
more than your blood sugar level. There are 80g of carbohydrate per
100g of product, with 4g per serving.
HONEY SUPPLEMENT
If you don't want to ingest the honey,
other products use it to good effect, from
skin care to medical ointment for external
use only, such as Meloderm Ointment
- 40% UMF15+ Active Manuka Honey
which can be used for minor burns, cuts,
grazes, stings and skin infections.
Keeping it local
In recent years, due to worrying news
about Colony Collapse Disorder, with
entire populations of worker bees
simply disappearing, as well as ongoing
concerns about the environment as a
whole, has lead to an upsurge of interest
in bees and in beekeeping (apiculture).
Steve Benbow (@londonhoneyman), living
in a relatively modern apartment block
near London's Tower Bridge started up
continued over
LifeMel is an Israeli-farmed honey
food supplement which is undergoing
second stage clinical trial in Italy to
prove it aids recovery for cancer
patients (and a third stage clinical trial
is to be held in the UK if the second
stage trial is successful). Research
has showed that functional honey
can be a good supplement for those
wanting to increase their daily intake
of anti-oxidants. It can enhance
the immune system and alleviating
side effects of chemotherapy and/
or radiotherapy. LifeMel is made by
bees feeding on Echinacea, Nettle,
Marigold, Lemon Balm, Swiss Chard,
Siberian Ginseng, Bilberry, Dandelion,
Fig, Red Clover, White Mulberry,
Chicory and Blackcurrant flowers. www.nuvitalityproducts.com