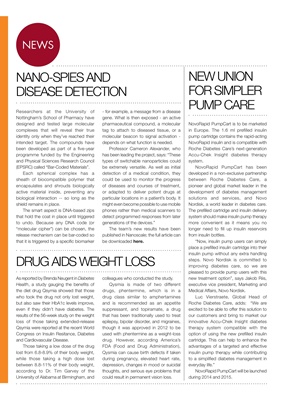 NEWS
NANO-SPIES AND
DISEASE DETECTION
Researchers at the University of
Nottingham's School of Pharmacy have
designed and tested large molecular
complexes that will reveal their true
identity only when they've reached their
intended target. The compounds have
been developed as part of a five-year
programme funded by the Engineering
and Physical Sciences Research Council
(EPSRC) called "Bar-Coded Materials".
Each spherical complex has a
sheath of biocompatible polymer that
encapsulates and shrouds biologically
active material inside, preventing any
biological interaction -- so long as the
shield remains in place.
The smart aspect is DNA-based zips
that hold the coat in place until triggered
to undo. Because any DNA code (or
"molecular cipher") can be chosen, the
release mechanism can be bar-coded so
that it is triggered by a specific biomarker
- for example, a message from a disease
gene. What is then exposed - an active
pharmaceutical compound, a molecular
tag to attach to diseased tissue, or a
molecular beacon to signal activation -
depends on what function is needed.
Professor Cameron Alexander, who
has been leading the project, says: "These
types of switchable nanoparticles could
be extremely versatile. As well as initial
detection of a medical condition, they
could be used to monitor the progress
of diseases and courses of treatment,
or adapted to deliver potent drugs at
particular locations in a patient's body. It
might even become possible to use mobile
phones rather than medical scanners to
detect programmed responses from later
generations of the devices."
The team's new results have been
published in Nanoscale; the full article can
be downloaded here.
DRUG AIDS WEIGHT LOSS
As reported by Brenda Neugent in Diabetes
Health, a study gauging the benefits of
the diet drug Qsymia showed that those
who took the drug not only lost weight,
but also saw their HbA1c levels improve,
even if they didn't have diabetes. The
results of the 56-week study on the weight
loss of those taking extended-release
Qsymia were reported at the recent World
Congress on Insulin Resitance, Diabetes
and Cardiovascular Disease.
Those taking a low dose of the drug
lost from 6.8-8.9% of their body weight,
while those taking a high dose lost
between 8.8-11% of their body weight,
according to Dr. Tim Garvey of the
University of Alabama at Birmingham, and
colleagues who conducted the study.
Qysmia is made of two different
drugs, phentermine, which is in a
drug class similar to amphertamines
and is recommended as an appetite
suppressant, and topiramate, a drug
that has been traditionally used to treat
epilepsy, bipolar disorder, and migraines,
though it was approved in 2012 to be
used with phentermine as a weight-loss
drug. However, according America's
FDA (Food and Drug Administration),
Qysmia can cause birth defects if taken
during pregnancy, elevated heart rate,
depression, changes in mood or suicidal
thoughts, and serious eye problems that
could result in permanent vision loss.
NEW UNION
FOR SIMPLER
PUMP CARE
NovoRapid PumpCart is to be marketed
in Europe. The 1.6 ml prefilled insulin
pump cartridge contains the rapid-acting
NovoRapid insulin and is compatible with
Roche Diabetes Care's next-generation
Accu-Chek Insight diabetes therapy
system.
NovoRapid PumpCart has been
developed in a non-exclusive partnership
between Roche Diabetes Care, a
pioneer and global market leader in the
development of diabetes management
solutions and services, and Novo
Nordisk, a world leader in diabetes care.
The prefilled cartridge and insulin delivery
system should make insulin pump therapy
more convenient as it means you do
longer need to fill up insulin reservoirs
from insulin bottles.
"Now, insulin pump users can simply
place a prefilled insulin cartridge into their
insulin pump without any extra handling
steps. Novo Nordisk is committed to
improving diabetes care, so we are
pleased to provide pump users with this
new treatment option", says Jakob Riis,
executive vice president, Marketing and
Medical Affairs, Novo Nordisk.
Luc Vierstraete, Global Head of
Roche Diabetes Care, adds: "We are
excited to be able to offer this solution to
our customers and bring to market our
innovative Accu-Chek Insight diabetes
therapy system compatible with the
option of using the new prefilled insulin
cartridge. This can help to enhance the
advantages of a targeted and effective
insulin pump therapy while contributing
to a simplified diabetes management in
everyday life."
NovoRapid PumpCart will be launched
during 2014 and 2015.