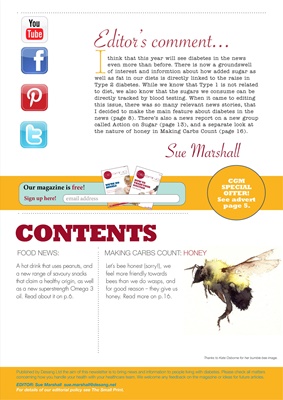 CONTENTS
Published by Desang Ltd the aim of this newsletter is to bring news and information to people living with diabetes. Please check all matters
concerning how you handle your health with your healthcare team. We welcome any feedback on the magazine or ideas for future articles.
EDITOR: Sue Marshall sue.marshall@desang.netshall" target="_blank" title="Visit sue.marshall">sue.marshall@desang.net
For details of our editorial policy see The Small Print.
Let's bee honest (sorry!), we
feel more friendly towards
bees than we do wasps, and
for good reason -- they give us
honey. Read more on p.14.
MAKING CARBS COUNT: HONEY
Sue Marshall
FOOD NEWS:
A hot drink that uses peanuts, and
a new range of savoury snacks
that claim a healthy origin, as well
as a new super-strength Omega 3
oil. Read about it on p.6.
CGM
SPECIAL
OFFER!
See advert
page 8.
Ithink that this year will see diabetes in the news
even more than before. There is now a groundswell
of interest and informtion about how added sugar as
well as fat in our diets is directly linked to the raise in
Type 2 diabetes. While we know that Type 1 is not related
to diet, we also know that the sugars we consume can be
directly tracked by blood testing. When it came to editing
this issue, there was so many relevant news stories, that
I decided to make the main feature about diabetes in
the news (page 8). There's also an update on the World
Health organsations' new directive on sugar (page ), and
a separate look at the nature of honey in Making Carbs
Count (page 14).
Editor's comment...
ISSUE 30
MAGAZINE
DESANG
PLUS • New Products • Groovy giveaways • News (for T1 and T2)
WE'RE NO
ANGELS
But business as usual is best for
diabetics at Christmas
MAKING
CARBS COUNT:
CHESTNUTS ROASTING
ON OPEN FIRES
Our magazine is free!
Sign up here! email address