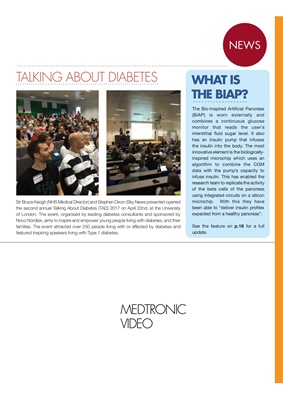 NEWS
MEDTRONIC
VIDEO
WHAT IS THE
BIAP?
The Bio-Inspired Artificial Pancreas
(BiAP) is worn externally and combines
a continuous glucose monitor that reads
the user's interstitial fluid sugar level. It
also has an insulin pump that infuses
the insulin into the body. The most
innovative element is the biologicallyinspired
microchip which uses an
algorithm to combine the CGM data
with the pump's capacity to infuse
insulin. This has enabled the research
team to replicate the activity of the beta
cells of the pancreas using integrated
circuits on a silicon microchip. With
this they have been able to "deliver
insulin profiles expected from a healthy
pancreas".
See the feature on p.18 for a full update.
Sir Bruce Keogh (NHS Medical Director) and Stephen Dixon (Sky News presenter) opened
the second annual Talking About Diabetes (TAD) 2017 on April 22nd, at the University
of London. The event, organised by leading diabetes consultants and sponsored by
Novo Nordisk, aims to inspire and empower young people living with diabetes, and their
families. The event attracted over 250 people living with or affected by diabetes and
featured inspiring speakers living with Type 1 diabetes.
TALKING ABOUT DIABETES