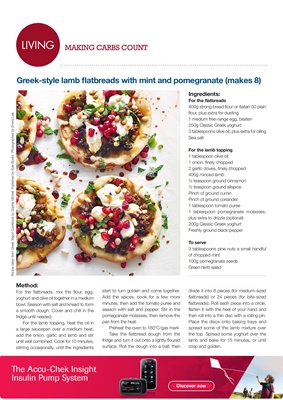 LIVINGLIVING
Greek-style lamb flatbreads with mint and pomegranate (makes 8)
Ingredients:
For the flatbreads
400g strong bread flour or Italian 00 plain
flour, plus extra for dusting
1 medium free-range egg, beaten
250g Classic Greek yoghurt
3 tablespoons olive oil, plus extra for oiling
Sea salt
For the lamb topping
1 tablespoon olive oil
1 onion, finely chopped
2 garlic cloves, finely chopped
400g minced lamb
½ teaspoon ground cinnamon
½ teaspoon ground allspice
Pinch of ground cumin
Pinch of ground coriander
1 tablespoon tomato pureÅLe
1 tablespoon pomegranate molasses,
plus extra to drizzle (optional)
200g Classic Greek yoghurt
Freshly ground black pepper
To serve
3 tablespoons pine nuts a small handful
of chopped mint
100g pomegranate seeds
Green herb salad
MAKING CARBS COUNT
Recipe taken from Greek Yogurt Cookbook by Sophie Michell. Published by Kyle Books. Photographed by Emma Lee.
Method:
For the flatbreads, mix the flour, egg,
yoghurt and olive oil together in a medium
bowl. Season with salt and knead to form
a smooth dough. Cover and chill in the
fridge until needed.
For the lamb topping, heat the oil in
a large saucepan over a medium heat,
add the onion, garlic and lamb and stir
until well combined. Cook for 10 minutes,
stirring occasionally, until the ingredients
start to turn golden and come together.
Add the spices, cook for a few more
minutes, then add the tomato pur.e and
season with salt and pepper. Stir in the
pomegranate molasses, then remove the
pan from the heat.
Preheat the oven to 180°∆C/gas mark
Take the flatbread dough from the
fridge and turn it out onto a lightly floured
surface. Roll the dough into a ball, then
divide it into 8 pieces (for medium-sized
flatbreads) or 24 pieces (for bite-sized
flatbreads). Roll each piece into a circle,
flatten it with the heel of your hand and
then roll into a thin disc with a rolling pin.
Place the discs onto baking trays and
spread some of the lamb mixture over
the top. Spread some yoghurt over the
lamb and bake for 15 minutes, or until
crisp and golden.