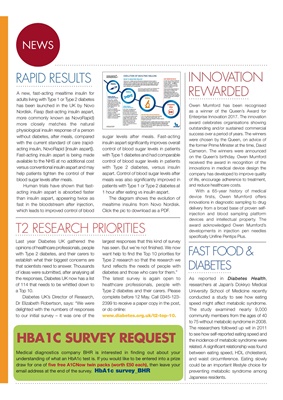 NEWS
HBA1C SURVEY REQUEST
RAPID RESULTS
A new, fast-acting mealtime insulin for
adults living with Type 1 or Type 2 diabetes
has been launched in the UK by Novo
Nordisk. Fiasp (fast-acting insulin aspart,
more commonly known as NovoRapid)
more closely matches the natural
physiological insulin response of a person
without diabetes, after meals, compared
with the current standard of care (rapidacting insulin, NovoRapid [insulin aspart]).
Fast-acting insulin aspart is being made
available to the NHS at no additional cost
versus conventional insulin aspart and may
help patients tighten the control of their
blood sugar levels after meals.
Human trials have shown that fastacting insulin aspart is absorbed faster
than insulin aspart, appearing twice as
fast in the bloodstream after injection,
which leads to improved control of blood
Last year Diabetes UK gathered the
opinions of healthcare professionals, people
with Type 2 diabetes, and their carers to
establish what their biggest concerns are
that scientists need to answer. Thousands
of ideas were submitted, after analysing all
the responses, Diabetes UK now has a list
of 114 that needs to be whittled down to
a Top 10.
Diabetes UK's Director of Research,
Dr Elizabeth Robertson, says: "We were
delighted with the numbers of responses
to our initial survey - it was one of the
largest responses that this kind of survey
has seen. But we're not finished. We now
want help to find the Top 10 priorities for
Type 2 research so that the research we
fund reflects the needs of people with
diabetes and those who care for them."
The latest survey is again open to
healthcare professionals, people with
Type 2 diabetes and their carers. Please
complete before 12 May. Call 0345-123-
2399 to receive a paper copy in the post,
or do online:
www.diabetes.org.uk/t2-top-10. INNOVATION
REWARDED
Owen Mumford has been recognised
as a winner of the Queen's Award for
Enterprise Innovation 2017. The innovation
award celebrates organisations showing
outstanding and/or sustained commercial
success over a period of years. The winners
were chosen by the Queen, on advice of
the former Prime Minister at the time, David
Cameron. The winners were announced
on the Queen's birthday. Owen Mumford
received the award in recognition of the new
innovations in medical device design the
company has developed to improve quality
of life, encourage adherence to treatment,
and reduce healthcare costs.
With a 65-year history of medical
device firsts, Owen Mumford offers
innovations in diagnostic sampling to drug
delivery from a broad base of proven selfinjection and blood sampling platform
devices and intellectual property. The
award acknowledged Owen Mumford's
developments in injection pen needles
specifically Unifine Pentips Plus.
Medical diagnostics company BHR is interested in finding out about your
understanding of what an HbA1c test is. If you would like to be entered into a prize
draw for one of five free A1CNow twin packs (worth £50 each), then leave your
email address at the end of the survey. HbA1c survey_BHR
FAST FOOD &
DIABETES
As reported in Diabetes Health,
researchers at Japan's Dokkyo Medical
University School of Medicine recently
conducted a study to see how eating
speed might affect metabolic syndrome.
The study examined nearly 9,000
community members from the ages of 40
to 75 without metabolic syndrome in 2008.
The researchers followed up wit in 2011
to see how self-reported eating speed and
the incidence of metabolic syndrome were
related. A significant relationship was found
between eating speed, HDL cholesterol,
and waist circumference. Eating slowly
could be an important lifestyle choice for
preventing metabolic syndrome among
Japanese residents.
sugar levels after meals. Fast-acting
insulin aspart significantly improves overall
control of blood sugar levels in patients
with Type 1 diabetes and had comparable
control of blood sugar levels in patients
with Type 2 diabetes, versus insulin
aspart. Control of blood sugar levels after
meals was also significantly improved in
patients with Type 1 or Type 2 diabetes at
1 hour after eating vs insulin aspart.
The diagram shows the evolution of
mealtime insulins from Novo Nordisk.
Click the pic to download as a PDF.
T2 RESEARCH PRIORITIES