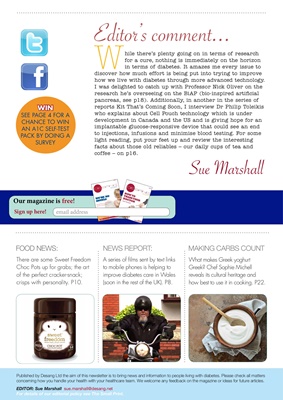 Published by Desang Ltd the aim of this newsletter is to bring news and information to people living with diabetes. Please check all matters
concerning how you handle your health with your healthcare team. We welcome any feedback on the magazine or ideas for future articles.
EDITOR: Sue Marshall sue.marshall@desang.net
For details of our editorial policy see The Small Print.
GIVEAWAY Sweet Freedom
Choc Pot. Plus the art of building
the perfect cracker snack, and
Ten Acres cracking crisps. P10.
Sue Marshall
MAKING CARBS COUNT
Trendy,, P22
Not everyon
We also catch up with Professor Nick Oliver
on the research still going on with he
BiAP (Bio-insipred Artificial Pancreas).
Additionally, we have another in the series of of Kit That's
Coming Soon, I interview
Also. people want your views -- there are two requests
for you to take part in a survey.
Noted that there are two stories (one from
Diabetes UK in the news section, and our report
on p. that look at asssessing your attitude to
your daibetes in order to help identify how to improve your
interaction with hyour healthcare professional
Editor's comment...
ISSUE 30
MAGAZINE
DESANG
PLUS • New Products • Groovy giveaways • News (for T1 and T2)
WE'RE NO
ANGELS
But business as usual is best for
diabetics at Christmas
MAKING
CARBS COUNT:
CHESTNUTS ROASTING
ON OPEN FIRES
Our magazine is free!
Sign up here! email address
NEWS REPORT:
How a series of films sent by text
links to mobile phones is helping
improve diabetes outcomes in
Wales. P14.
FOOD NEWS: