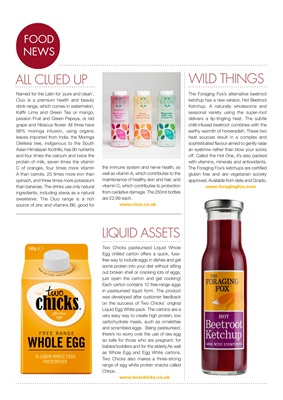 LIVINGLIVING
FOOD
NEWS
ALL CLUED UP WILD THINGS
LIQUID ASSETS
Named for the Latin for 'pure and clean',
Cluo is a premium health and beauty
drink range, which comes in watermelon,
Kaffir Lime and Green Tea or mango,
passion Fruit and Green Papaya, or red
grape and hibiscus flower. All three have
98% moringa infusion, using organic
leaves imported from India. the Moringa
Oleifeira tree, indigenous to the South
Asian Himalayan foothills, has 90 nutrients
and four times the calcium and twice the
protein of milk, seven times the vitamin
C of oranges, four times more vitamin
A than carrots, 25 times more iron than
spinach, and three times more potassium
than bananas. The drinks use only natural
ingredients, including stevia as a natural
sweetener. The Cluo range is a rich
source of zinc and vitamins B6, good for
The Foraging Fox's alternative beetroot
ketchup has a new version, Hot Beetroot
Ketchup. A naturally wholesome and
seasonal variety using the super-root
delivers a lip-tingling heat. The subtle
chilli-infused beetroot combines with the
earthy warmth of horseradish. These two
heat sources result in a complex and
sophisticated flavour aimed to gently raise
an eyebrow rather than blow your socks
off. Called the Hot One, it's also packed
with vitamins, minerals and antioxidants.
The Foraging Fox's ketchups are certified
gluten free and are vegetarian society
approved. Available from delis and Ocado.
the immune system and nerve health, as
well as vitamin A, which contributes to the
maintenance of healthy skin and hair, and
vitamin C, which contributes to protection
from oxidative damage. The 250ml bottles
are £2.99 each.
Two Chicks pasteurised Liquid Whole
Egg chilled carton offers a quick, fussfree
way to include eggs in dishes and get
some protein into your diet without sifting
out broken shell or cracking lots of eggs,
just open the carton and get cooking!
Each carton contains 10 free-range eggs
in pasteurised liquid form. The product
was developed after customer feedback
on the success of Two Chicks' original
Liquid Egg White pack. The cartons are a
very easy way to create high protein, low
carbohydrate meals, such as omelettes
and scrambled eggs. Being pasteurised,
there's no worry over the use of raw egg
so safe for those who are pregnant, for
babies/toddlers and for the elderly.as well
as Whole Egg and Egg White cartons,
Two Chicks also makes a three-strong
range of egg white protein snacks called
Chirps.