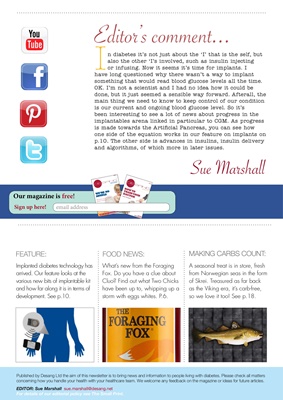 Published by Desang Ltd the aim of this newsletter is to bring news and information to people living with diabetes. Please check all matters
concerning how you handle your health with your healthcare team. We welcome any feedback on the magazine or ideas for future articles.
EDITOR: Sue Marshall sue.marshall@desang.netshall" target="_blank" title="Visit sue.marshall">sue.marshall@desang.net
For details of our editorial policy see The Small Print.
What's new from the Foraging
Fox. Do you have a clue about
Cluo? Find out what Two Chicks
have been up to, whipping up a
storm with eggs whites. P.6.
Sue Marshall
FEATURE:
Implanted diabetes technology has
arrived. Our feature looks at the
various new bits of implantable kit
and how far along it is in terms of
development. See p.10. I
can't take credit for much, but I have long questioned
why there wasn't a way to implant something that
would read blood glucose levels all the time. OK, so I'm
not a scientist and I had no idea how it could be done, but it
just seemed a sensible way forward. Afterall, the main thing
we need to know to keep control of our condition is our
blood glucose level. So it's been interesting to see a lot of
news about progress in the implantables arena. In diabetes
it's not just about the I that is the self, but also insulin
injecting or infusing, and now it's turn for implanting. As
progress is made towards the Artificial Pancreas (more
of that in a later issue), you can see how one side of the
equation works in our feature on implants on p.10.
Editor's comment...
ISSUE 30
MAGAZINE
DESANG
PLUS • New Products • Groovy giveaways • News (for T1 and T2)
WE'RE NO
ANGELS
But business as usual is best for
diabetics at Christmas
MAKING
CARBS COUNT:
CHESTNUTS ROASTING
ON OPEN FIRES
Our magazine is free!
Sign up here! email address
FOOD NEWS:
A seasonal treat is in store, fresh
from Norwegian seas in the form
of skriel. Treasured as far bask as
Vikings, it's carb-free, so we love
it too! See p.18.
MAKING CARBS COUNT: