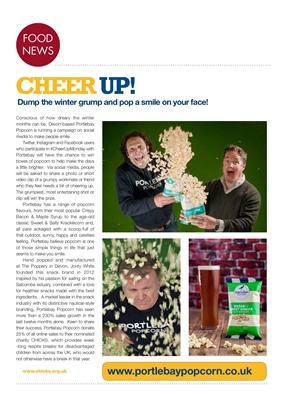 KIT
FOOD
NEWS
CHEER UP!
Conscious of how dreary the winter
months can be, Devon-based Portlebay
Popcorn is running a campaign on social
media to make people smile.
Twitter, Instagram and Facebook users
who participate in #CheerUpMonday with
Portlebay will have the chance to win
boxes of popcorn to help make the days
a little brighter. Via social media, people
will be asked to share a photo or short
video clip of a grumpy workmate or friend
who they feel needs a bit of cheering up.
The grumpiest, most entertaining shot or
clip will win the prize.
Portlebay has a range of popcorn
flavours, from their most popular Crispy
Bacon & Maple Syrup to the age-old
classic Sweet & Salty Kracklecorn and,
all pare ackaged with a scoop-full of
that outdoor, sunny, happy and carefree
feeling. Portlebay believe popcorn is one
of those simple things in life that just
seems to make you smile.
Hand popped and manufactured
at The Poppery in Devon, Jonty White
founded this snack brand in 2012
inspired by his passion for sailing on the
Salcombe estuary, combined with a love
for healthier snacks made with the best
ingredients, . A market leader in the snack
industry with its distinctive nautical-style
branding, Portlebay Popcorn has seen
more than a 230% sales growth in the
last twelve months alone. Keen to share
their success, Portlebay Popcorn donate
25% of all online sales to their nominated
charity CHICKS, which provides week
-long respite breaks for disadvantaged
children from across the UK, who would
not otherwise have a break in that year.
Dump the winter grump and pop a smile on your face!