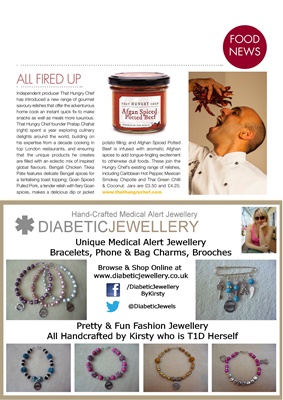 /DiabeticJewellery
ByKirsty
Unique Medical Alert Jewellery
Bracelets, Phone & Bag Charms, Brooches
Pretty & Fun Fashion Jewellery
All Handcrafted by Kirsty who is T1D Herself
Browse & Shop Online at
@DiabeticJewels
FOOD
NEWS
ALL FIRED UP
Independent producer That Hungry Chef
has introduced a new range of gourmet
savoury relishes that offer the adventurous
home cook an instant quick fix to make
snacks as well as meals more luxurious.
That Hungry Chef founder Pratap Chahal
(right) spent a year exploring culinary
delights around the world, building on
his expertise from a decade cooking in
top London restaurants, and ensuring
that the unique products he creates
are filled with an eclectic mix of inspired
global flavours. Bengali Chicken Tikka
Pate features delicate Bengali spices for
a tantalising toast topping; Goan Spiced
Pulled Pork, a tender relish with fiery Goan
spices, makes a delicious dip or jacket
potato filling; and Afghan Spiced Potted
Beef is infused with aromatic Afghan
spices to add tongue-tingling excitement
to otherwise dull foods. These join the
Hungry Chef's existing range of relishes,
including Caribbean Hot Pepper, Mexican
Smokey Chipotle and Thai Green Chilli
& Coconut. Jars are £3.50 and £4.25.