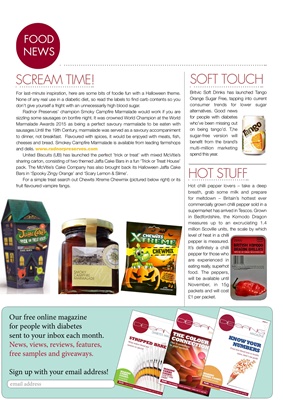 LIVINGLIVING
FOOD
NEWS
SCREAM TIME! SOFT TOUCH
For last-minute inspiration, here are some bits of foodie fun with a Halloween theme.
None of any real use in a diabetic diet, so read the labels to find carb contents so you
don't give yourself a fright with an unnecessarily high blood sugar.
Radnor Preserves' champion Smoky Campfire Marmalade would work if you are
sizzling some sausages on bonfire night. It was crowned World Champion at the World
Marmalade Awards 2015 as being a perfect savoury marmalade to be eaten with
sausages.until the 19th Century, marmalade was served as a savoury accompaniment
to dinner, not breakfast. Flavoured with spices, it would be enjoyed with meats, fish,
cheeses and bread. Smokey Campfire Marmalade is available from leading farmshops
and delis. www.radnorpreserves.com
United Biscuits (UB) has launched the perfect 'trick or treat' with mixed McVitie's
sharing carton, consisting of two themed Jaffa Cake Bars in a fun 'Trick or Treat House'
pack. The McVitie's Cake Company has also brought back its Halloween Jaffa Cake
Bars in 'Spooky Zingy Orange' and 'Scary Lemon & Slime'.
For a simple treat search out Chewits Xtreme Chewmix (pictured abgove) or its fruit
flavoured vampire fangs.
Britvic Soft Drinks has launched Tango
Orange Sugar Free, tapping into current
consumer trends for lower sugar
alternatives. Good news
for people with diabetes
who've been missing out
on being tango'd. T,he
sugar-free version will
benefit from the brand's
multi-million marketing
spend this year. .
Our free online magazine
for people with diabetes
sent to your inbox each month.
News, views, reviews, features,
free samples and giveaways.
Sign up with your email address!
email address
HOT STUFF
Hot chilli pepper lovers - take a deep
breath, grab some milk and prepare
for meltdown - Britain's hottest ever
commercially grown chilli pepper sold in a
supermarket has arrived in Tescos. Grown
in Bedfordshire, the Komodo Dragon
measures up to an excruciating 1.4
million Scoville units, the scale by which
level of heat in a chilli
pepper is measured.
It's definitely a chilli
pepper for those who
are experienced in
eating really, superhot
food. The peppers,
will be available until
November, in 15g
packets and will cost
£1 per packet.