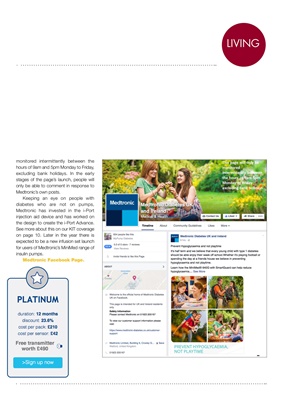 monitored intermittently between the
hours of 9am and 5pm Monday to Friday,
excluding bank holidays. In the early
stages of the page's launch, people will
only be able to comment in response to
Medtronic's own posts.
Keeping an eye on people with
diabetes who are not on pumps,
Medtronic has invested in the i-Port
injection aid device and has worked on
the design to create the i-Port Advance.
See more about this on our KIT coverage
on page 10. Later in the year there is
expected to be a new infusion set launch
for users of Medtronic's MiniMed range of
insulin pumps.
Medtronic Facebook Page.
LIVING