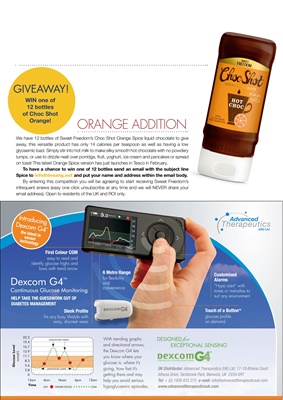 ORANGE
ADDITION
We have 12 bottles of Sweet Freedom's
Choc Shot Orange Spice liquid chocolate
to give away, this versatile product has
only 14 calories per teaspoon as well as
having a low glycaemic load. Simply stir
into hot milk to make silky smooth hot
chocolate with no powdery lumps, or use
to drizzle neat over porridge, fruit, yoghurt,
ice cream and pancakes or spread on
toast This latest Orange Spice version has
just launches in Tesco in February.
To have a chance to win one of 12
bottles send an email with the subject
line Spice to info@desang.netttp://desang.net" target="_blank" title="Visit desang.net">desang.net and
put your name and address within the
email body.
By entering this competition you will
be agreeing to start receiving Sweet
Freedom's infrequent enews (easy one
click unsubscribe at any time and we will
NEVER share your email address). Open
to residents of the UK and ROI only.
GIVEAWAY!
win one of
twelve bottles
of choc shot
orange