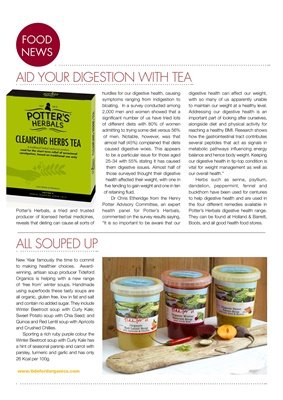 KIT
AID YOUR DIGESTION WITH TEA
FOOD
NEWS
Potter's Herbals, a tried and trusted
producer of licensed herbal medicines,
reveals that dieting can cause all sorts of
hurdles for our digestive health, causing
symptoms ranging from indigestion to
bloating. In a survey conducted among
2,000 men and women showed that a
significant number of us have tried lots
of different diets with 80% of women
admitting to trying some diet versus 56%
of men. Notable, however, was that
almost half (45%) complained that diets
caused digestive woes. This appears
to be a particular issue for those aged
25-34 with 55% stating it has caused
them digestive issues. Almost half of
those surveyed thought their digestive
health affected their weight, with one in
five tending to gain weight and one in ten
of retaining fluid.
Dr Chris Etheridge from the Henry
Potter Advisory Committee, an expert
health panel for Potter's Herbals,
commented on the survey results saying,
"It is so important to be aware that our
digestive health can affect our weight,
with so many of us apparently unable
to maintain our weight at a healthy level.
Addressing our digestive health is an
important part of looking after ourselves,
alongside diet and physical activity for
reaching a healthy BMI. Research shows
how the gastrointestinal tract contributes
several peptides that act as signals in
metabolic pathways influencing energy
balance and hence body weight. Keeping
our digestive health in tip-top condition is
vital for weight management as well as
our overall health."
Herbs such as senna, psyllium,
dandelion, peppermint, fennel and
buckthorn have been used for centuries
to help digestive health and are used in
the four different remedies available in
Potter's Herbals digestive health range.
They can be found at Holland & Barrett,
Boots, and all good health food stores.
New Year famously the time to commit
to making healthier choices. Awardwinning, artisan soup
producer Tideford
Organics is helping with a new range of
'free from' winter soups. Handmade
using superfoods these tasty soups are all
organic, gluten free, low in fat and salt and
contain no added sugar. They include
Winter Beetroot soup with Curly Kale;
Sweet Potato soup with Chia Seed; and
Quinoa and Red Lentil soup with Apricots
and Crushed Chillies. Sporty a rich ruby
purple colour the Winter Beetroot soup
with Curly Kale has a hint of seasonal
parsnip and carrot with parsley, turmeric
and garlic and has only 26 Kcal per 100g.
ALL SOUPED UP