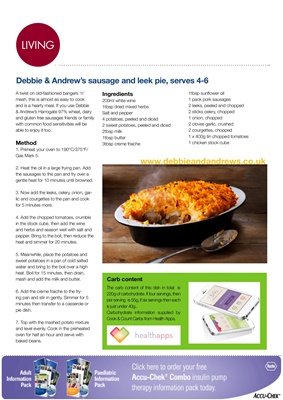 LIVINGLIVING
The carb content of this dish in total is
230g, with 4 servings, then per serving is
just under 60g.
Carbohydrate information supplied by
Cook & Count Carbs from Health Apps.
Debbie & Andrew's sausage and leek pie, serves 4-6
Carb content
A twist on old-fashioned bangers 'n'
mash, this is almost as easy to cook
and is a hearty meal. If you use Debbie
& Andrew's Harrogate 97% wheat, dairy
and gluten free sausages friends or family
with common food sensitivities will be
able to enjoy it too.
Method
1. Preheat your oven to 190°C/375°F/
Gas Mark 5.
2. Heat the oil in a large frying pan. Add
the sausages to the pan and fry over a
gentle heat for 10 minutes until browned.
3. Now add the leeks, celery, onion, garlic and courgettes to the pan and cook
for 5 minutes more.
4. Add the chopped tomatoes, crumble
in the stock cube, then add the wine
and herbs and season well with salt and
pepper. Bring to the boil, then reduce the
heat and simmer for 20 minutes.
5. Meanwhile, place the potatoes and
sweet potatoes in a pan of cold salted
water and bring to the boil over a high
heat. Boil for 15 minutes, then drain,
mash and add the milk and butter.
6. Add the creme fraiche to the frying pan and stir in gently.
Simmer for 5
minutes then transfer to a casserole or
pie dish.
7. Top with the mashed potato mixture
and level evenly. Cook in the preheated
oven for half an hour and serve with
baked beans.
Ingredients
200ml white wine
1tbsp dried mixed herbs
Salt and pepper
4 potatoes, peeled and diced
2 sweet potatoes, peeled and diced
2tbsp milk
1tbsp butter
3tbsp creme fraiche
1tbsp sunflower oil
1 pack pork sausages
2 leeks, peeled and chopped
2 sticks celery, chopped
1 onion, chopped
2 cloves garlic, crushed
2 courgettes, chopped
1 x 400g tin chopped tomatoes
1 chicken stock cube