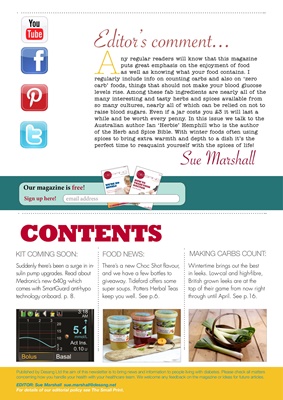 CONTENTS
Published by Desang Ltd the aim of this newsletter is to bring news and information to people living with diabetes. Please check all matters
concerning how you handle your health with your healthcare team. We welcome any feedback on the magazine or ideas for future articles.
EDITOR: Sue Marshall sue.marshall@desang.netshall" target="_blank" title="Visit sue.marshall">sue.marshall@desang.net
For details of our editorial policy see The Small Print.
There's a new Choc Shot flavoru,
and we have a few bottles to
giveaway. Tideford offers some
super soups and Potters Herbal
Teas keep you well. See p.6. Sue Marshall
KIT COMING SOON:
Suddenly there's been a surge in insulin pump upgrades. Read about
Medronic's new 640g -which
comes with SmartGuard anti-hypo
technology onboard. p. 8. Any regular readers will know that this magazine
puts great emphasis on the enjoyment of food
as well as knowing what your food contains. I
regularly include info on counting carbs and also on 'zero
carb' foods, things that should not make your blood glucose
levels rise. Among these fab ingredients are nearly all of the
many interesting and tasty herbs and spices available from
so many cultures, nearly all of which can be relied on not to
raise blood sugars. Even if a jar costs you £3 it will last a
while and be worth every penny. In this issue we talk to the
Australian author Ian 'Herbie' Hemphll who is the author
of the Herb and Spice Bible. With winter foods often using
spices to bring extra warmth and depth to a dish it's the
perfect time to reacquaint yourself with the spices of life!
Editor's comment...
ISSUE 30
MAGAZINE
DESANG
PLUS • New Products • Groovy giveaways • News (for T1 and T2)
WE'RE NO
ANGELS
But business as usual is best for
diabetics at Christmas
MAKING
CARBS COUNT:
CHESTNUTS ROASTING
ON OPEN FIRES
Our magazine is free!
Sign up here! email address FOOD NEWS:
Wintertime brings out the best
in leeks. Low-cal and high-fibre,
British grown leeks are at the top
of their game right through until
April. See p.16.
MAKING CARBS COUNT: