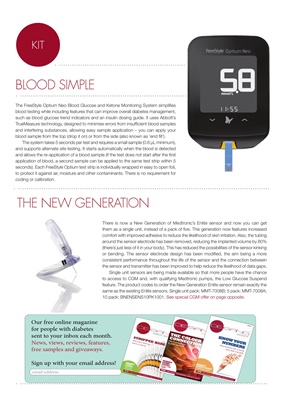 KITKIT
BLOOD SIMPLE
THE NEW GENERATION
Our free online magazine
for people with diabetes
sent to your inbox each month.
News, views, reviews, features,
free samples and giveaways.
Sign up with your email address!
email address
The FreeStyle Optium Neo Blood Glucose and Ketone Monitoring System simplifies
blood testing while including features that can improve overall diabetes management,
such as blood glucose trend indicators and an insulin dosing guide. It uses Abbott's
TrueMeasure technology, designed to minimise errors from insufficient blood samples
and interfering substances, allowing easy sample application - you can apply your
blood sample from the top (drop it on) or from the side (also known as 'end fill').
The system takes 5 seconds per test and requires a small sample (0.6 µL minimum),
and supports alternate site testing. It starts automatically when the blood is detected
and allows the re-application of a blood sample (if the test does not start after the first
application of blood, a second sample can be applied to the same test strip within 5
seconds). Each FreeStyle Optium test strip is individually wrapped in easy to open foil,
to protect it against air, moisture and other contaminants. There is no requirement for
coding or calibration.
There is now a New Generation of Medtronic's Enlite sensor and now you can get
them as a single unit, instead of a pack of five. This generation now features increased
comfort with improved adhesive to reduce the likelihood of skin irritation. Also, the tubing
around the sensor electrode has been removed, reducing the implanted volume by 80%
(there's just less of it in your body) and reducing the possibilities of the sensor kinking
or bending. The sensor electrode design has been modified, the aim being a more
consistent performance throughout the life of the sensor and the connection between
the sensor and transmitter has been improved to help reduce the likelihood of data gaps.
The product codes to order the New Generation Enlite sensor remain exactly the
same as the existing Enlite sensors. Single unit sensors are being made available so that
more people have the chance to access to CGM and, with qualifying Medtronic pumps,
the Low Glucose Suspend feature. Single unit pack: MMT-7008B; 5 pack: MMT-7008A;
10 pack: BNENSENS10PK1001.