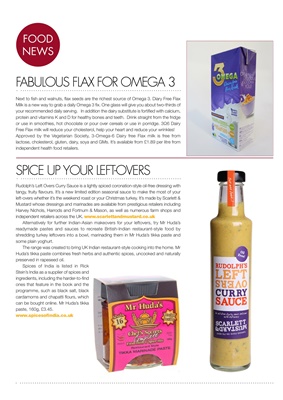 FOOD
NEWS
SPICE UP YOUR LEFT-OVERS
Rudolph's Left Overs Curry Sauce is a lightly spiced coronation-style oil-free dressing
with tangy, fruity flavours. It's a new limited edition seasonal sauce to make the most
of your left-overs whether it's the weekend roast or your Christmas turkey. It's made
by Scarlett & Mustard whose dressings and marinades are available from prestigious
retailers including Harvey Nichols, Harrods and Fortnum & Mason, as well as numerous
farm shops and independent retailers across the UK.
Alternatively for further Indian-Asian makeovers for your leftovers, try Mr Huda's
readymade pastes and sauces to recreate British-Indian restaurant-style food by
shredding turkey leftovers into a bowl, marinading them in Mr Huda's tikka paste and
some plain yoghurt.
The range was created to bring UK Indian restaurant-style cooking into the home. Mr
Huda's tikka paste combines fresh herbs and authentic spices, uncooked and naturally
preserved in rapeseed oil.
Spices of India is listed in Rick
Stein's India as a supplier of spices and
ingredients, including the harder-to-find
ones that feature in the book and the
programme, such as black salt, black
cardamoms and chapatti flours, which
can be bought online. Mr Huda's tikka
paste, 160g, £3.45.
FABULOUS FLAX FOR OMEGA 3
Next to fish and walnuts, flax seeds are the richest source of Omega 3. Diary Free Flax
Milk is a new way to grab a daily Omega 3 fix. One glass will give you about two-thirds of
your recommended daily serving. In addition the dairy substitute is fortified with calcium,
protein and vitamins K and D for healthy bones and teeth. Drink straight from the fridge
or use in smoothies, hot chocolate or pour over cereals or use in porridge. 3Ω6 Dairy
Free Flax milk will reduce your cholesterol, help your heart and reduce your wrinkles!
Approved by the Vegetarian Society, 3-Omega-6 Dairy free Flax milk is free from
lactose, cholesterol, gluten, dairy, soya and GMs. It's available from £1.89 per litre from
independent health food retailers.
Accu-Chek® Mobile
Strip Free, Simple, Smart.
Experience what's possible.
Roche Diagnostics Limited, Charles Avenue, Burgess Hill, RH15 9RY.
Company registration number: 571546
All-in-one system: test whenever, wherever.
ACCU-CHEK and ACCU-CHEK MOBILE are trademarks of Roche. © 2012 Roche Diagnostics Limited.
Visit accu-chek.co.uk/desangmobile
or ask your healthcare professional
NEW for INSULIN USERS
2381_Mobile_LCM_Desang_final.indd 1 27/07/2012 16:03