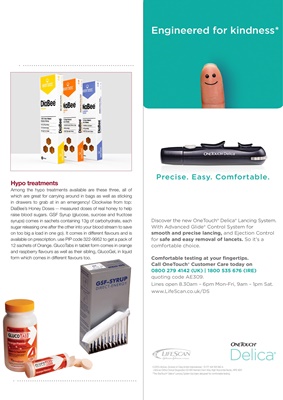 continued over
LIVING
Precise. Easy. Comfortable.
Discover the new OneTouch® Delica® Lancing System.
With Advanced Glide® Control System for
smooth and precise lancing, and Ejection Control
for safe and easy removal of lancets. So it's a
comfortable choice.
Comfortable testing at your fingertips.
Call OneTouch® Customer Care today on
0800 279 4142 (UK) | 1800 535 676 (IRE)
quoting code AE309.
Lines open 8.30am - 6pm Mon-Fri, 9am - 1pm Sat.
Engineered for kindness*
©2013 LifeScan, Division of Cilag GmbH International - 13-177. AW 100 942 A.
LifeScan Ortho-Clinical Diagnostics 50-100 Holmers Farm Way High Wycombe Bucks, HP12 4DP.
* The OneTouch® Delica® Lancing System has been designed for comfortable testing.