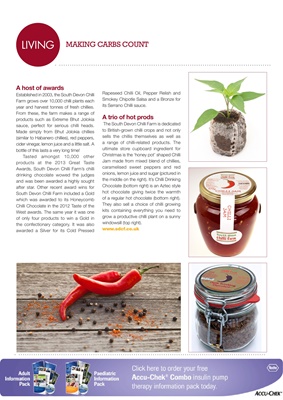 LIVINGLIVING MAKING CARBS COUNT
A host of awards
Established in 2003, the South Devon
Chilli Farm grows over 10,000 chilli plants
each year and harvest tonnes of fresh
chillies. From these, the farm makes
a range of products. Tasted amongst
10,000 other products at the 2013 Great
Taste Awards, South Devon Chilli Farm's
chilli drinking chocolate wowed the judges
and was been awarded a highly sought
after star. Other recent award wins for
South Devon Chilli Farm included a Gold
which was awarded to its Honeycomb
Chilli Chocolate in the 2012 Taste of the
West awards. The same year it was one
of only four products to win a Gold in
the confectionary category. It was also
awarded a Silver for its Cold Pressed
Rapeseed Chilli Oil, Pepper Relish and
Smokey Chipotle Salsa and a Bronze for
its Serrano Chilli sauce.
Three hot prods
The ultimate store cupboard ingredient
for Christmas is the 'honey pot' shaped
Chilli Jam made from mixed blend of
chillies, caramelised sweet peppers and
red onions, lemon juice and sugar. It's
Chilli Drinking Chocolate is an Aztec style
hot chocolate giving twice the warmth of
a regular hot chocolate. It's Extreme Bhut
Jolokia sauce is perfect for serious chilli
heads, this Extreme sauce is made simply
from Bhut Jolokia chillies (similar to that
of Habanero chillies), red peppers, cider
vinegar, lemon juice and a little salt. A
bottle of this lasts a very long time!
The South Devon Chilli Farm is
dedicated to British-grown chilli
crops and not only sells the
chillis themselves as well as a
range of chilli-related products,
from Chilli Jam (middle right) to
Hot Chilli Chocolate (bottom
right). They also sell a choice
of chilli growing kits containing
everything you need to grow
a productive chilli plant on a
sunny windowsill (top right).