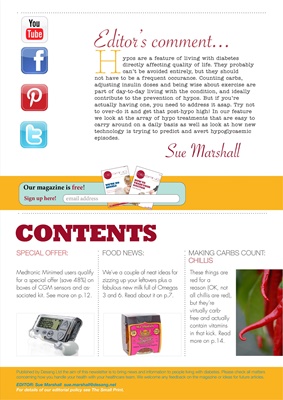 CONTENTS
Published by Desang Ltd the aim of this newsletter is to bring news and information to people living with diabetes. Please check all matters
concerning how you handle your health with your healthcare team. We welcome any feedback on the magazine or ideas for future articles.
EDITOR: Sue Marshall sue.marshall@desang.netshall" target="_blank" title="Visit sue.marshall">sue.marshall@desang.net
For details of our editorial policy see The Small Print.
These things are
red for a reason (OK, not all
chillis are red),
but they're virtually carb-free and
actually contain
vitamins.
On p.16.
MAKING CARBS COUNT:
CHILLIS
Sue Marshall
FOOD NEWS:
We've a couple of neat ideas for
zizzing up your leftovers with tasty
sauces, as well as a fabulous new
flax milk full of Omegas 3 and 6.
Read about it on p.6.
NEWS:
Frightfully fresh stuff from the Fish
Society, plus sweet success with
Slim Fruits making an entrance
on the UK scene.
See more on p.4.
Are you a Medtronic*
insulin pump user?
A smarter tool to help you live your life
The NEW CONTOUR
®NEXT LINK meter wirelessly sends blood glucose
results directly to your MiniMed device's Bolus Wizard™ calculator
to help save you time and effort
• Accurate readings can help you adjust your insulin bolus dose more conidently
• Multipulse accuracy technology from Bayer ensures accurate glucose measurements,
even when blood glucose levels are low. Accuracy is not affected by many common
interfering substances**
• No Coding™ technology removes the need to manually code the meter before
testing, eliminating errors due to miscoding
Claim your NEW CONTOUR®NEXT LINK meter from Bayer FREE* today!
Visit www.bayerdiabetes.co.uk/cnl-des
* In this offer, CONTOUR
® NEXT LINK meters are free to customers using the following Medtronic devices: the MiniMed Veo™ insulin pump, the MiniMed Paradigm® REAL-Time insulin pump and
CGM system, and the Guardian® REAL-Time CGM system. Only 1 CONTOUR
® NEXT LINK meter can be supplied to an individual for each Medtronic pump.
** Full details available in test strip pack insert.
Bayer (reg'd), the Bayer Cross (reg'd), Contour®, No Coding, and Second-Chance are trademarks of Bayer. CareLink and Paradigm are registered trademarks and Veo and Bolus Wizard are
trademarks of Medtronic MiniMed, Inc. © 2013 Bayer plc. All rights reserved. Diabetes Care, Bayer House, Strawberry Hill, Newbury, Berkshire. RG14 1JA 13 CNL-DES
For any queries please call our Bayer Diabetes Care Support team on 0845 600 6030 (Mon-Fri 8:30am - 5:30pm)
Hypos are a feature of living with diabetes.
They pretty much can't be avoided entirely, but
their frequency ought to be as few as possible.
Counting carbs, adjusting insulin doses and being wise
about exercise are part of day-to-day living and the
prevention of hypos. But if you're actually having one,
you also need to address it as soon as possible, and try
not to over-do it and get that post-hypo high! In our
feature we look at the array of hypo treatments that are
easy to carry around on a daily basis as well as look at
how new technology is trying to predict and avert them.
Editor's comment...
ISSUE 30
MAGAZINE
DESANG
PLUS • New Products • Groovy giveaways • News (for T1 and T2)
WE'RE NO
ANGELS
But business as usual is best for
diabetics at Christmas
MAKING
CARBS COUNT:
CHESTNUTS ROASTING
ON OPEN FIRES
Our magazine is free!
Sign up here! email address