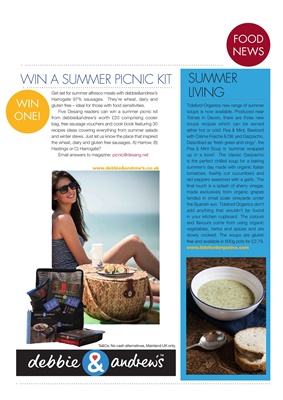 WIN A SUMMER PICNIC KIT SUMMER
LIVING
Tideford Organics new range of summer
soups is now available. Produced near
Totnes in Devon, there are three new
soups recipes which can be served
either hot or cold: Pea & Mint, Beetroot
with Crème Fraiche & Dill, and Gazpacho.
Described as 'fresh green and zingy', the
Pea & Mint Soup is 'summer wrapped
up in a bowl'. The classic Gazpacho
is the perfect chilled soup for a baking
summer's day made with organic Italian
tomatoes, freshly cut cucumbers and
red peppers seasoned with a garlic. The
final touch is a splash of sherry vinegar,
made exclusively from organic grapes
tended in small scale vineyards under
the Spanish sun. Tideford Organics don't
add anything that wouldn't be found
in your kitchen cupboard. The colours
and flavours come from using organic
vegetables, herbs and spices and are
slowly cooked. The soups are gluten
free and available in 600g pots for £2.79.
Get set for summer alfresco meals with debbie&andrew's
Harrogate 97% sausages. They're wheat, dairy and
gluten free - ideal for those with food sensitivities.
Five Desang readers can win a summer picnic kit
from debbie&andrew's worth £20 comprising cooler
bag, free sausage vouchers and cook book featuring 30
recipes ideas covering everything from summer salads
and winter stews. Just let us know the place that inspired
the wheat, dairy and picnic@desang.netges. A) Harrow, B)
Hastings or C) Harrogate?
Email answers to magazine: picnic@desang.net
www.debbie&andrew's.co.uk
WIN
ONE!
Ts&Cs: No cash alternatives, Mainland UK only.
FOOD
NEWS