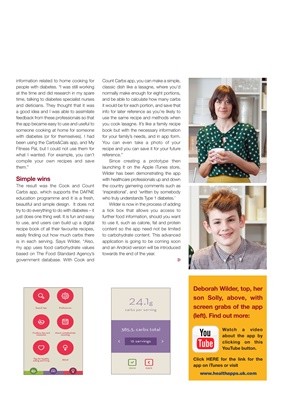 Type 2 diabetes and was about reducing
carbohydrates, which really wasn't what I
needed for my son's diet."
Wilder describes herself as a very
keen cook and decided to do an app to
fill what she saw as a gap in the market for
information related to home cooking for
people with diabetes. "I was still working
at the time and did research in my spare
time, talking to diabetes specialist nurses
and dieticians. They thought that it was
a good idea and I was able to assimilate
feedback from these professionals so that
the app became easy to use and useful to
someone cooking at home for someone
with diabetes (or for themselves). I had
been using the Carbs&Cals app, and My
Fitness Pal, but I could not use them for
what I wanted. For example, you can't
compile your own recipes and save
them."
Simple wins
The result was the Cook and Count
Carbs app, which supports the DAFNE
education programme and it is a fresh,
beautiful and simple design. It does not
try to do everything to do with diabetes - it
just does one thing well. It is fun and easy
to use, and users can build up a digital
recipe book of all their favourite recipes,
easily finding out how much carbs there
Watch a video
about the app by
clicking on this
YouTube button.
Click HERE for the link for the
app on iTunes or visit
Deborah Wilder, top, her
son Matthew, above,
with screen grabs of the
app (left). Find out more:
is in each serving. Says Wilder, "Also,
my app uses food carbohydrate values
based on Food Standard Agency's
government database. With Healthy App,
you can make a simple, classic dish like
a lasagne, where you'd normally make
enough for eight portions, and be able
to calculate how many carbs it would be
for each portion, and save that info for
later reference as you're likely to use the
same recipe and methods when you cook
lasagne. It's l like a family recipe book but
with the necessary information for your
family's needs, and in app form. You can
even take a photo of your recipe and you
can save it for your future reference."
Since creating a prototype then
launching it on the Apple iTunes store,
Wilder has been demonstrated the app
with healthcare professionals up and down
the country garnering comments such as
'inspirational', and 'written by somebody
who truly understands Type 1 diabetes.'
Wilder is now in the process of adding
a tick box that allows you access to
further food information, should you want
to use it, such as calorie, fat and protein
content so the app need not be limited
to carbohydrate content. This advanced
application is going to be coming soon
and an Android version will be introduced
towards the end of the year.