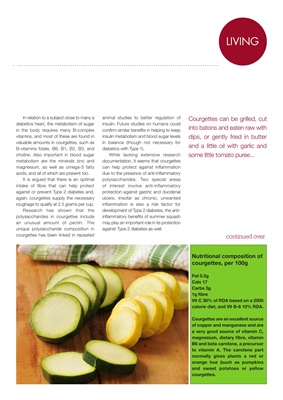 continued over
LIVING
Nutritional composition of
courgettes, per 100g
Fat 0.3g
Cals 17
Carbs 3g
1g fibre
Vit C 30% of RDA based on a 2000
calorie diet, and Vit B-6 10% RDA.
Courgettes are an excellent source
of copper and manganese and are
a very good source of vitamin C,
magnesium, dietary fibre, vitamin
B6 and beta carotene, a precursor
to vitamin A. The carotene part
normally gives plants a red or
orange hue (such as pumpkins
and sweet potatoes or yellow
courgettes.
in the body requires many B-complex
vitamins, and most of these are found in
valuable amounts in courgettes, such as
B-vitamins folate, B6, B1, B2, B3, and
choline. Also important in blood sugar
metabolism are the minerals zinc and
magnesium, as well as omega-3 fatty
acids, and all of which are present too.
It is argued that there is an optimal
intake of fibre that can help protect
against or prevent Type 2 diabetes and,
again, courgettes supply the necessary
roughage to qualify at 2.5 grams per cup.
Research has shown that the
polysaccharides in courgettes include
an unusual amount of pectin. The
unique polysaccharide composition in
courgettes has been linked in repeated
animal studies to better regulation of
insulin. Future studies on humans could
confirm similar benefits in helping to keep
insulin metabolism and blood sugar levels
in balance (though not necessary for
diabetics with Type 1).
While lacking extensive research
documentation, it seems that courgettes
can help protect against inflammation
due to the presence of anti-inflammatory
polysaccharides. Two special areas
of interest involve anti-inflammatory
protection against gastric and duodenal
ulcers. Insofar as chronic, unwanted
inflammation is also a risk factor for
development of Type 2 diabetes, the antiinflammatory benefits
of summer squash
may play an important role in its protection
against Type 2 diabetes as well.