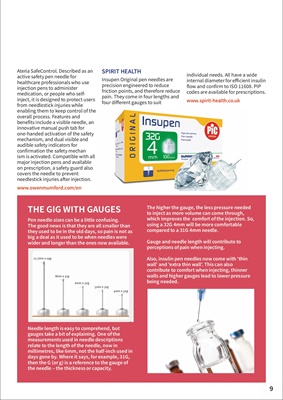 9
SPIRIT HEALTH
Ateria SafeControl. Described as an
active safety pen needle for
healthcare professionals who use
injection pens to administer
medication, or people who selfinject,
it is designed to protect users
from needlestick injuries while
enabling them to keep control of the
overall process. Features and
benefits include a visible needle, an
innovative manual push tab for
one-handed activation of the safety
mechanism, and dual visible and
audible safety indicators for
confirmation the safety mechan
ism is activated. Compatible with all
major injection pens and available
on prescription, a safety guard also
covers the needle to prevent
needlestick injuries after injection.
Insupen Original pen needles are
precision engineered to reduce
friction points, and therefore reduce
pain. They come in four lengths and
four different gauges to suit
Pen needle sizes can be a little confusing.
The good news is that they are all smaller than
they used to be in the old days, so pain is not as
big a deal as it used to be when needles were
wider and longer than the ones now available.
Needle length is easy to comprehend, but
gauges take a bit of explaining. One of the
measurements used in needle descriptions
relate to the length of the needle, now in
millimetres, like 6mm, not the half-inch used in
days gone by. Where it says, for example, 31G,
then the G (or g) is a reference to the gauge of
the needle - the thickness or capacity.
THE GIG WITH GAUGES The higher the gauge, the less pressure needed
to inject as more volume can come through,
which improves the comfort of the injection. So,
using a 32G 4mm will be more comfortable
compared to a 31G 4mm needle.
Gauge and needle length will contribute to
perceptions of pain when injecting.
Also, insulin pen needles now come with 'thin
wall' and 'extra thin wall'. This can also
contribute to comfort when injecting, thinner
walls and higher gauges lead to lower pressure
being needed.
individual needs. All have a wide
internal diameter for efficient insulin
flow and confirm to ISO 11608. PIP
codes are available for prescriptions.