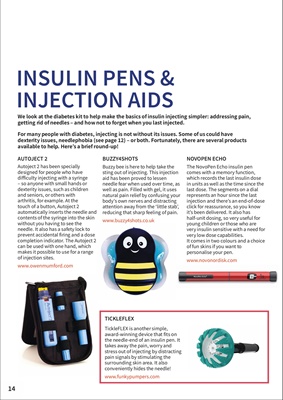 14INSULIN PENS &
INJECTION AIDS
We look at the diabetes kit to help make the basics of insulin injecting simpler: addressing pain,
getting rid of needles - and how not to forget when you last injected.
For many people with diabetes, injecting is not without its issues. Some of us could have
dexterity issues, needlephobia (see page 12) - or both. Fortunately, there are several products
available to help. Here's a brief round-up!
AUTOJECT 2 NOVOPEN ECHO
BUZZY4SHOTS
Autoject 2 has been specially
designed for people who have
difficulty injecting with a syringe
- so anyone with small hands or
dexterity issues, such as children
and seniors, or others with
arthritis, for example. At the
touch of a button, Autoject 2
automatically inserts the needle and
contents of the syringe into the skin
without you having to see the
needle. It also has a safety lock to
prevent accidental firing and a dose
completion indicator. The Autoject 2
can be used with one hand, which
makes it possible to use for a range
of injection sites.
Buzzy bee is here to help take the
sting out of injecting. This injection
aid has been proved to lessen
needle fear when used over time, as
well as pain. Filled with gel, it uses
natural pain relief by confusing your
body's own nerves and distracting
attention away from the 'little stab',
reducing that sharp feeling of pain.
The NovoPen Echo insulin pen
comes with a memory function,
which records the last insulin dose
in units as well as the time since the
last dose. The segments on a dial
represents an hour since the last
injection and there's an end-of-dose
click for reassurance, so you know
it's been delivered. It also has
half-unit dosing, so very useful for
young children or those who are
very insulin sensitive with a need for
very low dose capabilities.
It comes in two colours and a choice
of fun skins if you want to
personalise your pen.
TICKLEFLEX
TickleFLEX is another simple,
award-winning device that fits on
the needle-end of an insulin pen. It
takes away the pain, worry and
stress out of injecting by distracting
pain signals by stimulating the
surrounding skin area. It also
conveniently hides the needle!