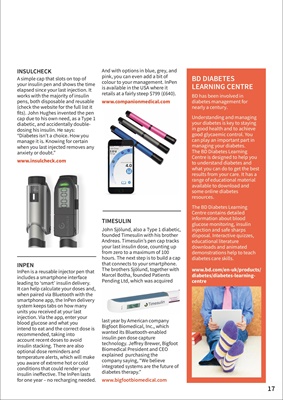 17
INPEN
TIMESULIN
InPen is a reusable injector pen that
includes a smartphone interface
leading to 'smart' insulin delivery.
It can help calculate your doses and,
when paired via Bluetooth with the
smartphone app, the InPen delivery
system keeps tabs on how many
units you received at your last
injection. Via the app, enter your
blood glucose and what you
intend to eat and the correct dose is
recommended, taking into
account recent doses to avoid
insulin stacking. There are also
optional dose reminders and
temperature alerts, which will make
you aware of extreme hot or cold
conditions that could render your
insulin ineffective. The InPen lasts
for one year - no recharging needed. John Sjölund, also a Type 1 diabetic,
founded Timesulin with his brother
Andreas. Timesulin's pen cap tracks
your last insulin dose, counting up
from zero to a maximum of 100
hours. The next step is to build a cap
that connects to your smartphone.
The brothers Sjölund, together with
Marcel Botha, founded Patients
Pending Ltd, which was acquired
last year by American company
Bigfoot Biomedical, Inc., which
wanted its Bluetooth-enabled
insulin pen dose capture
technology. Jeffrey Brewer, Bigfoot
Biomedical President and CEO
explained purchasing the
company saying, "We believe
integrated systems are the future of
diabetes therapy."
A simple cap that slots on top of
your insulin pen and shows the time
elapsed since your last injection. It
works with the majority of insulin
pens, both disposable and reusable
(check the website for the full list it
fits). John Hughes invented the pen
cap due to his own need, as a Type 1
diabetic, and accidentally doubledosing
his insulin. He says:
"Diabetes isn't a choice. How you
manage it is. Knowing for certain
when you last injected removes any
anxiety or doubt."
INSULCHECK And with options in blue, grey, and
pink, you can even add a bit of
colour to your management. InPen
is available in the USA where it
retails at a fairly steep $799 (£640).
BD has been involved in
diabetes management for
nearly a century.
Understanding and managing
your diabetes is key to staying
in good health and to achieve
good glycaemic control. You
can play an important part in
managing your diabetes.
The BD Diabetes Learning
Centre is designed to help you
to understand diabetes and
what you can do to get the best
results from your care. It has a
range of educational material
available to download and
some online diabetes
resources.
The BD Diabetes Learning
Centre contains detailed
information about blood
glucose monitoring, insulin
injection and safe sharps
disposal. Interactive quizzes,
educational literature
downloads and animated
demonstrations help to teach
diabetes care skills.
diabetes/diabetes-learningcentre
BD DIABETES
LEARNING CENTRE