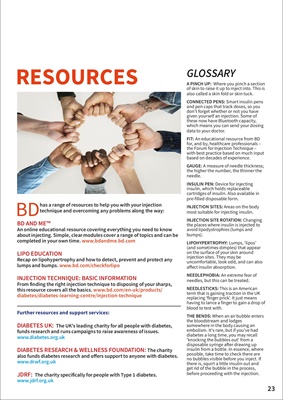 23
A PINCH UP: Where you pinch a section
of skin to raise it up to inject into. This is
also called a skin fold or skin tuck.
CONNECTED PENS: Smart insulin pens
and pen caps that track doses, so you
don't forget whether or not you have
given yourself an injection. Some of
these now have Bluetooth capacity,
which means you can send your dosing
data to your doctor.
FIT: An educational resource from BD
for, and by, healthcare professionals -
the Forum for Injection Technique -
with best practice based on much input
based on decades of experience.
GAUGE: A measure of needle thickness;
the higher the number, the thinner the
needle.
INSULIN PEN: Device for injecting
insulin, which holds replaceable
cartridges of insulin. Also available in
pre-filled disposable form.
INJECTION SITES: Areas on the body
most suitable for injecting insulin.
INJECTION SITE ROTATION: Changing
the places where insulin is injected to
avoid lipodystrophies (lumps and
bumps).
LIPOHYPERTROPHY: Lumps, 'lipos'
(and sometimes dimples) that appear
on the surface of your skin around
injection sites. They may be
uncomfortable, look odd, and can also
affect insulin absorption.
NEEDLEPHOBIA: An extreme fear of
needles, but this can be treated.
NEEDLESTICKS: This is an American
term that is gaining traction in the UK
replacing 'finger prick'. It just means
having to lance a finger to gain a drop of
blood to test with.
THE BENDS: When an air bubble enters
the bloodstream and lodges
somewhere in the body causing an
embolism. It's rare, but if you've had
diabetes a long time, you may recall
'knocking the bubbles out' from a
disposable syringe after drawing up
insulin from a bottle. In essence, where
possible, take time to check there are
no bubbles visible before you inject. If
there is, squirt a little insulin out and
get rid of the bubble in the process,
before proceeding with the injection.
GLOSSARY
RESOURCES
has a range of resources to help you with your injection
technique and overcoming any problems along the way:
BD AND ME™
An online educational resource covering everything you need to know
about injecting. Simple, clear modules cover a range of topics and can be
completed in your own time. www.bdandme.bd.com
LIPO EDUCATION
Recap on lipohypertrophy and how to detect, prevent and protect any
lumps and bumps. www.bd.com/checkforlipo
INJECTION TECHNIQUE: BASIC INFORMATION
From finding the right injection technique to disposing of your sharps,
this resource covers all the basics. www.bd.com/en-uk/products/
diabetes/diabetes-learning-centre/injection-technique
Further resources and support services:
DIABETES UK: The UK's leading charity for all people with diabetes,
funds research and runs campaigns to raise awareness of issues.
DIABETES RESEARCH & WELLNESS FOUNDATION: The charity
also funds diabetes research and offers support to anyone with diabetes.
JDRF: The charity specifically for people with Type 1 diabetes.
BD