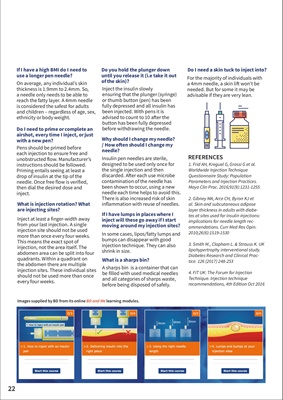 22
REFERENCES
If I have a high BMI do I need to
use a longer pen needle?
Do I need to prime or complete an
airshot, every time I inject, or just
with a new pen?
What is injection rotation? What
are injecting sites?
On average, any individual's skin
thickness is 1.9mm to 2.4mm. So,
a needle only needs to be able to
reach the fatty layer. A 4mm needle
is considered the safest for adults
and children - regardless of age, sex,
ethnicity or body weight.
Pens should be primed before
each injection to ensure free and
unobstructed flow. Manufacturer's
instructions should be followed.
Priming entails seeing at least a
drop of insulin at the tip of the
needle. Once free flow is verified,
then dial the desired dose and
inject.
If I have lumps in places where I
inject will these go away if I start
moving around my injection sites?
In some cases, lipos/fatty lumps and
bumps can disappear with good
injection technique. They can also
shrink in size.
Inject at least a finger-width away
from your last injection. A single
injection site should not be used
more than once every four weeks.
This means the exact spot of
injection, not the area itself. The
abdomen area can be split into four
quadrants. Within a quadrant on
the abdomen there are multiple
injection sites. These individual sites
should not be used more than once
every four weeks.
Do you hold the plunger down
until you release it (i.e take it out
of the skin)?
Why should I change my needle?
/ How oft en should I change my
needle?
What is a sharps bin?
Do I need a skin tuck to inject into?
For the majority of individuals with
a 4mm needle, a skin lift won't be
needed. But for some it may be
advisable if they are very lean.
Inject the insulin slowly
ensuring that the plunger (syringe)
or thumb button (pen) has been
fully depressed and all insulin has
been injected. With pens it is
advised to count to 10 after the
button has been fully depressed
before withdrawing the needle.
Insulin pen needles are sterile,
designed to be used only once for
the single injection and then
discarded. After each use microbe
contamination of the needle has
been shown to occur, using a new
needle each time helps to avoid this.
There is also increased risk of skin
inflammation with reuse of needles.
A sharps bin is a container that can
be filled with used medical needles
and all categories of sharps waste,
before being disposed of safely.
1. Frid AH, Kreguel G, Grassi G et al.
Worldwide Injection Technique
Questionnaire Study: Population
Parameters and Injection Practices.
Mayo Clin Proc. 2016;91(9):1231-1255
2. Gibney MA, Arce CH, Byron KJ et
al. Skin and subcutaneous adipose
layer thickness in adults with diabetes
at sites used for insulin injections:
implications for needle length recommendations.
Curr Med Res Opin.
2010;26(6):1519-1530
3. Smith M., Clapham L. & Strauss K. UK
lipohypertrophy interventional study.
Diabetes Research and Clinical Practice.
126 (2017) 248-253
4. FIT UK: The Forum for Injection
Technique. Injection technique
recommendations, 4th Edition Oct 2016
Images supplied by BD from its online BD and Me learning modules.