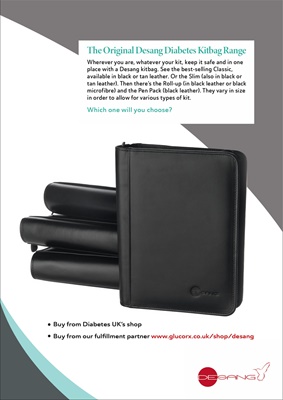 Wherever you are, whatever your kit, keep it safe and in one
place with a Desang kitbag. See the best-selling Classic,
available in black or tan leather. Or the Slim (also in black or
tan leather). Then there's the Roll-up (in black leather or black
microfibre) and the Pen Pack (black leather). They vary in size
in order to allow for various types of kit.
Which one will you choose?
The Original Desang Diabetes Kitbag Range
Buy from Diabetes UK's shop
Buy from our fulfillment partner www.glucorx.co.uk/shop/desang